There's no shortage of mindfulness and meditation apps these days the mindfulness org found 5 apps that were the most valuable and easy-to-use mindfulness apps that are available for free we wanted to share with you. Two on this list are completely free, while the rest include a free version with the option to upgrade to premium content and features.
Considering the Mindful Org is a mission-driven non-profit organisation who are dedicated to inspiring, guiding, and connecting anyone who wants to explore mindfulness to enjoy better health, more caring relationships, and a compassionate society we decided to include their recommendation-ed meditation apps for you to try and explore.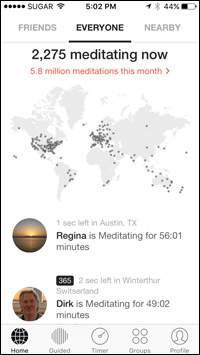 Available for iOS and Android
Entry price: Free. But you have to navigate around the subscription screen with the button that says "Start 7 Day Trial. Once you scroll past that, you can access the free content. 
FREE FEATURES:

* Thousands of guided meditations

* Select by time for short meditations when on the go, helping you to build a simple daily habit

* Thousands of music tracks and ambient sounds to calm the mind, focus, sleep better and relax

* The world's most popular meditation Timer

* Follow your favourite teachers

* Thousands of discussion groups and community features

* Stats and milestones for tracking your progress

* Integration with Apple Health Mindful Minutes
You can also tune in to 2,000 free talks and podcasts for life advice and inspiration, and music tracks to soothe your mind or help you sleep.
Paid option: For $59.99 per year, you get access to courses with well-known teachers, a new daily meditation for anxiety and stress, and the ability to download meditations, listen offline, and fast forward and rewind.
Available for iOS, Android, and web
Entry price: Free
Smiling Mind hits the sweet spot for a free mindfulness app in so many ways. 
The app features hundreds of meditations, enough to keep you engaged without overwhelming you with choice. They are organized into structured programs like Mindful Foundations (42 sessions), Sleep (6 sessions), Relationships (13 sessions), and Workplace (41 sessions), but you have the flexibility to choose where to start and to easily jump between programs. Most meditations are in the five- to fifteen-minute range, with a few practices up to 45 minutes for advanced meditators. 
Created by a nonprofit by the same name, Smiling Mind is entirely free—so you don't have the distraction of paid content that's inaccessible to you as a free user. The app wants to put a "smile on your mind"—and it might just succeed. 
*Australia's leading FREE meditation app

*Used by over 5M people

*Programs for all ages

*10min/day is all you need to start seeing the benefits


Smiling Mind is a FREE mindfulness meditation app developed by psychologists and educators to help bring balance to your life.


Just as we eat well and stay fit to keep our body healthy, mindfulness meditation is about mental health and looking after the mind.


Our programs are designed to assist people in dealing with the pressure, stress, and challenges of daily life.


We offer programs for:

- Adults

- Kids & Youth (3-18 Year Olds)

- Sleep

- Classrooms

- Sport

- At Work

- Some Indigenous Languages

- & Much More

Put a smile on your mind today!
Paid option: None
Available for iOS and Android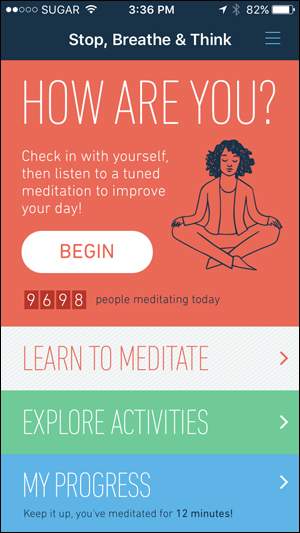 Entry price: Free. If you explore "All Sessions" you can access the free meditations all in one place and also take a peek at what the upgrade to a paid plan offers.
Stop, Breathe & Think is an award winning meditation and mindfulness app that helps you find peace anywhere. It allows you to check in with your emotions, and recommends short guided meditations, yoga and acupressure videos, tuned to how you feel. Our personalized meditation and mindfulness experience won the 2017 Webby People's Voice Award for Best Health App, and has been featured by the Today Show, Apple, Cosmopolitan, Marie Claire and many more.

At Stop, Breathe & Think, we believe that taking a few minutes each day to feel the calm is as important as regular exercise. If we can help more of you develop this simple habit and regularly find peace of mind, we're doing our part to help make the world a better place.


STOP, BREATHE & THINK MEDITATION FEATURES:


Meditation made easy with:

+ Over 55 tailored meditations

+ Customizable meditation timer with choices of chimes and soundscapes

+ Customizable breathing timer to focus and find calm

+ Meditate to start and end your day

+ Tracker for your emotions pre and post meditation

+ Sharing for friends


Guided meditations and yoga or acupressure videos designed to help with:

+ Stress, Anxiety & Depression

+ Focus

+ Compassion

+ Sleep

+ And much more!


Tracker for mood & meditation progress:

+ Check-in and record today's meditation progress

+ Integration with the Health app

+ Track daily streaks, weekly settledness, top emotions, total time meditated and more

+ Stickers reward you along the way!


WHY PRACTICE MEDITATION & MINDFULNESS:


"You can change your whole frame of mind with just a few minutes of meditation." -Fast Company


Meditate regularly and develop skills that help you relax, support academic and professional achievement, in addition to more positive interactions and relationships, by learning to:


- Deepen your awareness of your thoughts and emotions and recognize those feelings in others

- Settle yourself down and proactively manage your emotions and reactions, like stress or anxiety

- Approach people and everyday situations from the perspective of kindness and compassion.
Paid option: For $58.99 per year, you get longer versions of the existing meditations (up to 30 minutes), 100 premium meditations, new voices, more yoga and accupressure, and the ability to journal on the app.
Available for iOS and Android
Entry price: Free
If all the research on mindfulness has persuaded you that you need to meditate, the UCLA Mindful app could be a good place to start. 
With this easy-to-use app, you can practice mindfulness meditation anywhere, anytime with the guidance of the UCLA Mindful Awareness Research Center. Scientific research shows mindfulness can help manage stress-related physical conditions, reduce anxiety and depression, cultivate positive emotions, and help improve overall physical health and well-being.
Mindfulness is the practice of training the mind to be present through moment-to-moment awareness of our thoughts, feelings, body sensations and environment. Mindfulness promotes an attitude of openness, curiosity, and a willingness to be with our experience. Through regular practice, taught through this app, you can develop a meditation practice and learn to bring more mindfulness into your daily life.
This app offers:
Basic Meditations for getting started, in both English and Spanish
Wellness Meditations for people suffering from challenging health conditions
Informative videos exploring how to get started, supportive meditation postures, and the science of mindfulness
Weekly podcasts from UCLA's Hammer Museum-- a 30 minute meditation on different themes you can search for and bookmark
A timer to meditate on your own
Paid option: None
Available for iOS and Android
Entry price: Free
The tagline for 10% Happier tells you the most important thing you need to know about the app. It's "meditation for fidgety skeptics"—a relatable, no-nonsense way to learn mindfulness for people whose goals veer more toward sharpening their brains than befriending their souls.
Unlike some other mindfulness apps, 10% Happier comes with a tour guide. 
Authoritative conversations about meditation
There's really only one 7-day free offering on 10% Happier, and we hesitated to include it in this list, but what it lacks in quantity it makes up for in accessibility, authority, and unique perspective. What's free is The Basics series, a one-week orientation to mindfulness.
APPLE "BEST OF 2018" AWARD-WINNER -- Want to sleep better, be more mindful, improve your relationships, and become just about ten percent happier? This is the app for you. Our guided meditations, videos, talks, and sleep content will help you build (or boost) your meditation practice, and stick with it.
Features:
- Video and meditation combos that make it fun and straightforward to learn to meditate.
- A library of 500+ guided meditations on topics ranging from anxiety to parenting to focus, ensuring that you can find exactly the right meditation for the moment.
- A sleep section filled with relaxing meditations that make it easy to fall (and stay) asleep.
- Bite-size stories, wisdom, and inspiration that you can listen to while on the go - for those moments when you're not feeling like meditation but want some mindfulness.
- New content released weekly to keep meditation from becoming a chore.
- Quick meditations that fit into your busy life—during your commute, lunch break, etc.
Paid option: For $99.99 per year, you get access to over 350 guided meditations, the ability to download meditations for offline listening, and courses on stress, focus, performance, relationships, and more.